Three Billboards Outside Ebbing, Missouri [2017] Review
What do you do if you are a single mother trying to get justice for the death of your daughter, but no one is really paying any heed to you at all? You put up billboards and cause a stir, the biggest one among the people to get them to notice and pay attention to your demands. This is the premise of the black comedic crime film Three Billboards Outside Ebbing, Missouri, written and directed by Irish playwright Martin McDonagh.
McDonagh, in his magnum opus, brings out the best performance from Frances McDormand, even better than her Academy award-winning performance in Fargo, who I had so far only seen in her husband, Joel Coen's films. Three Billboards not only highlights the vile patriarchal society we live in, it also shows us how incompetent our law and order is by laughing at the face of it.
Three Billboards is set in the fictional town of Ebbing in Missouri where Mildred Hayes (Frances McDormand), a single mother in search for justice for the death of her daughter seven months ago, notices three ageing billboards on her way home. She storms through the office of the advertising agency who owns them and puts up three signs on them that say Raped While Dying, Still No Arrests and How Come, Chief Willoughby? respectively, painted in bright red to grab the attention of everyone who passes by. This does grab everyone's attention and while people vilify Mildred for harassing Willoughby (Woody Harrelson), a pancreatic cancer patient, it gets everyone talking about her and Angela, her daughter which is exactly what she wanted. What follows is a story filled with retribution and a sort of a dark laughter on our society's nature of patronizing and moral policing.
Three Billboards not only is a commentary or eye-opener about the misdemeanours of our justice system, it also shows us the pain and sacrifice of a single mother, how guilt consciousness eats us up from the inside and the rampant homophobia, racism and sexism that widely exist today, in its runtime of 115 minutes but doesn't end without giving us hope that if we want to, this can be changed, and that change will only begin from within ourselves.
This is a bold and angry movie, with a rich and robust script forming its base which is complemented by some of the most brilliant acting performances from its cast. It is violent and rough and deals with people who would turn on their words at any moment, but it shows them compassion by displaying that they have a big heart as well. The same Mildred, who rebuffs Chief Willoughby vigorously on his visit to her house asking to take down the billboards, says "I know you didn't baby" when the ailing Willoughby spits blood on her face during an interrogation and asserts that he didn't mean to do it and goes on to seek help for him. At the heart of it, this film is just a woman's desperate cry for help to people who wouldn't listen to her, a woman who has faced many roadblocks in her life and finally wants closure with one of them.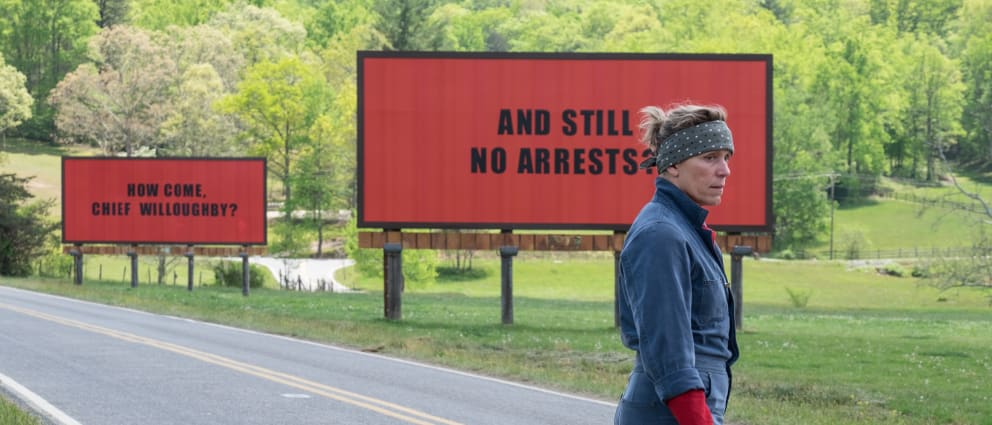 I have already said it before, but I will still repeat it anyway. Frances McDormand produces a performance of a lifetime in a role which was especially written with the thought of casting her for it, the highlight of which is a one-way conversation her character has with a deer who she refuses to think as a reincarnation of her dead daughter. Mildred Hayes is a woman with many layers, someone who although is soft on the inside, puts up a façade of a tough sell to people. She's lonely and broken from the inside but never really expresses it, clenching her teeth while fighting against the police for her daughter, who is more into taking the billboards down than addressing the reason the billboards were put up in the first place. McDormand does justice to this brilliantly written character with her expressions and dialogues, taking inspiration for her character from the legendary John Wayne.
Woody Harrelson and Peter Dinklage put up impressive performances for her respective roles. Harrelson's Willoughby deals with the humiliation of the billboards while coming to the terms with his approaching death and Dinklage plays James, the so-called "town midget" who acts as a sympathetic acquaintance to Mildred. But the find of the movie has to be the stupendous Sam Rockwell, who does immense justice to his surname by absolutely nailing the character of Officer Jason Dixon, which again was specifically written with him in mind.
This is the third feature film for writer-director Martin McDonagh, after In Bruges and Seven Psychopaths and he does a tremendous job with it. McDonagh was inspired to write this story after seeing similar billboards about an unsolved crime while travelling in the United States.
Three Billboards Outside Ebbing, Missouri is easily one of the best films of 2017, which has been a great year for Hollywood producing some of the best independent works. Three Billboards, along with Lady Bird and Call Me By Your Name are shining examples of why the independent film industry and the stories they tell without the glamour of the studio and star cast are so important and significant.
Awards Buzz:
I totally expect Frances McDormand to deservingly win the Academy Award for Best Actress this year, along with a definite nod and a probable win for Sam Rockwell for Best Supporting Actor, unless Willem Dafoe wins it for his equally deserving performance in Sean Baker's The Florida Project.