For a movie to be great, it doesn't always have to be surreal or need to stir up the brain or show real pain and suffering. Sometimes, to make a great movie, all you need is a big heart and an ambition to do whatever your heart wants you to. This is something that I have learnt in my years of watching films made by Pixar Animation Studios. They made movies which shaped up my childhood, and they are making movies which will probably go on to shape my adulthood as well. Coco, Pixar's latest release is in my honest opinion, a great film. One of the finest films that I have seen this year for sure. A film that hits you straight at your heart.
Pixar is never afraid to tell you uncommon stories. From an intelligent rat who loves to cook and bonds with a human and helps him to become a fine chef to exploring the emotions that exist in our brain and make us who we are, no matter what the story is, they always connect with me, in a humane way and Coco is no exception.
The film begins with the history of the Rivera family in Mexico, who are famous for their shoemaking skills. Imelda Rivera was the wife of a musician who, to pursue his career in music, left her and her daughter Coco. It is then that Imelda banned music in the Rivera family and that tradition has been continued for generations. The film focuses on Imelda's great-great-grandson, Miguel, a 12-year-old who is in love with music and dreams to be a musician like his idol, Ernesto de la Cruz. On the popular festival of Dia de Los Muertos (Day of the Dead), Miguel tries to steal de la Cruz's guitar from his tomb and when he strums it, he gets transported to the Land of the Dead.
Coco is an important film and it is a personal film. It shows you how at the end of the day, your family is all that matters. The bond between family members is irreplaceable and cannot be made up for with anything else. Coco is also an amazing tribute to music, and to our bond with music that has existed for ages. "Never underestimate the power of music", says Ernesto de la Cruz and right he is. Music is a powerful tool that transcends language, race and religion. Music is the reason why I was gleefully enjoying the mariachi songs in the film without understanding a word of the Spanish language.
Coco is also a political film and it couldn't have come at a better time. At a time when the leader of the most powerful country in the world hates Mexicans, here's Disney and Pixar, telling the world an original heartfelt story of a Mexican kid and his family. Director Lee Unkrich takes up and perfectly delivers on the job to portray Mexico to the world just as they are, destroy all the notions and taboos about them, show America especially that Mexicans are humans, just like everyone. That a wall is never going to do them any good. From bringing back iconic Mexican legends like Frida Kahlo to the perfect representation of the Mexican culture, music and rituals, Coco breathes in the colours of Mexico.
In one of my very favourite films, Damien Chazelle's Whiplash, Miles Teller's Andrew Neyman says "I'd rather die drunk, broke at 34 and have people at a dinner table talk about me than live to be rich and sober at 90 and nobody remembers who I was".
Coco tells us how our entire existence is validated if we have people to remember us. It shows us that we must always strive to do things that create a legacy for us, preferably in a good way because the fact that we are remembered is of great comfort to us in the afterlife. When we die, our memories are all that our friends and families will have of us and if we don't have anything memorable attached to us, then our legacy fades away. So go out and do the things you want for yourself, make memories and make them so damn good that people remember you by them, is what the movie tells us I suppose.
Unkrich delivers on his reputation again. The Academy Award winning director gives us a film that is going to stay in our minds for a long time. Everything about the film was perfect. From a great original story written by four writers, amazing voice acting by Gael Garcia Bernal (Hector) and Anthony Gonzalez (Miguel) especially along with the other voice actors and beautiful music composed by Michael Giacchino that is rooted heavily in Mexican mariachi culture, Coco truly got everything right.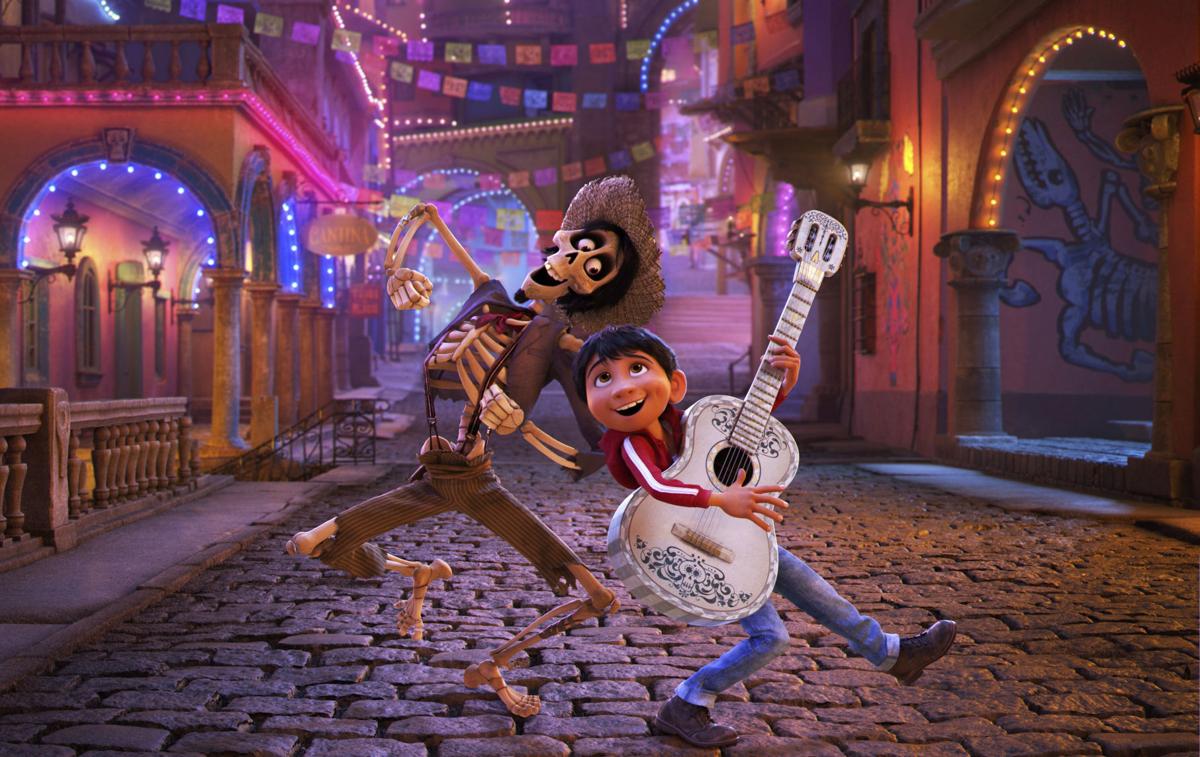 The only thing that spoils the experience of Coco is the stupid and lame 21-minute Frozen short film that Disney is playing before it, which I've heard they have scrapped now.
I am not a Mexican, so I cannot speak from a Mexican perspective of the importance of this movie. But I found this review on the popular website Letterboxd by Edgar Cochran, who writes in detail about how Coco perfectly portrayed the Mexican culture and how much this film means to him as a Mexican and I honestly felt this is the best and most heartfelt thing that I have read about the film.
It would really be a surprise to me if Coco doesn't sweep all the awards in the animated section of any award show next year.
Save